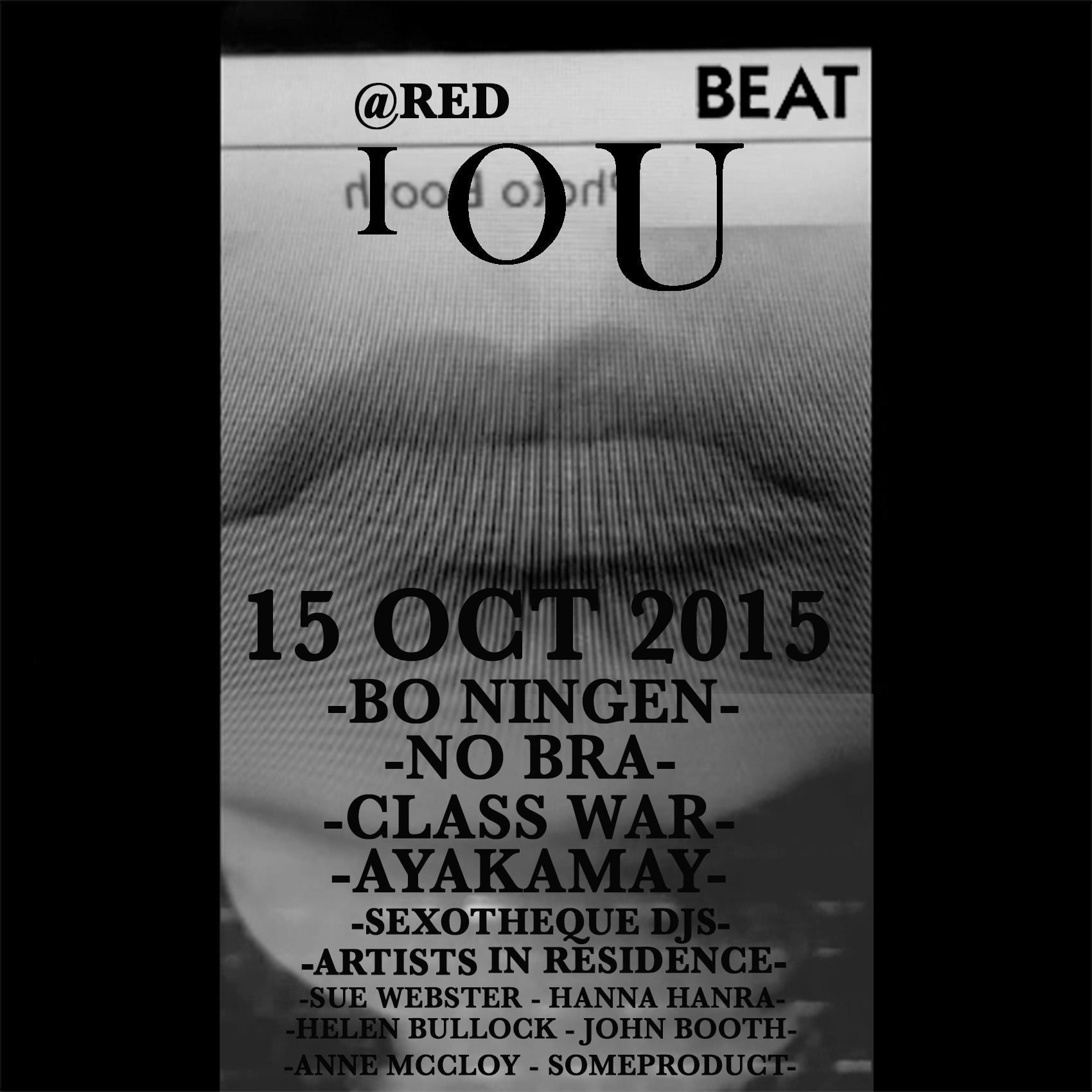 15 OCT – BO NINGEN – NO BRA – CLASS WAR – AYAKAMAY
16 OCT – WILD DAUGHTER – LUIS DRAYTON – WINNIE THE POOF – EYESHADOWS
Two nights of live music and performance celebrating the best of the East London Underground scene to coincide with Frieze week October Thurs15th 7pm till 2am & Friday 16th 7pm till 2am 2015.
ARTISTS IN RESIDENCE
SEXOTHEQUE DJS – SUE WEBSTER – HANNA HANRA – HELEN BULLOCK – JOHN BOOTH – ANNE MCCLOY – SOMEPRODUCT
IOU is a collaboration between Beat magazine, Sue Webster, Anne McCloy and RED Gallery. Over two nights in the Red Gallery basement and Arts Club, major players from within the East London scene who work both locally and internationally will join forces in an experiment in underground sound. The programme will be as diverse as the performers and include cross gender alternative cabaret hardcore, multifarious universal cross-cosmopolitan artists, loud loud noise and artwork visuals.
Experimentation in the alternative is to be encouraged. Audience and performer as one.
BEAT magazine is an East London based music magazine. BEAT magazine is THE music teacher that you need in your life. It covers just about everything. Its really really Cool. : The Beat Juice website
Sue Webster is an internationally renowned and exhibited artist and Editor at Lunch at BEAT. She has collaborated with many music artists including PJ Harvey, Nick Cave, Bo Ningen and S.C.U.M. Her work is collected by JAYZ and Beyonce : Sue Webster website
Anne McCloy aka Some Product is a multidisciplinary artist working in the visual and multi-media arts, design and performance: Anne McCloy website
Inside Outside Underground
TICKETS HERE
Red Gallery event page HERE
Red Gallery 1-3 Rivington Street, London